Benita A. Keller | Obituary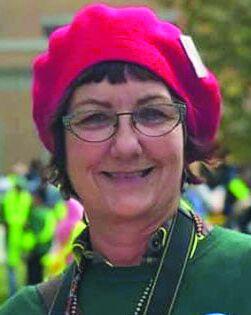 Benita Anderson Keller, 67, of Shepherdstown, West Virginia, died at Jefferson Memorial Hospital in Ranson, West Virginia on October 28, 2021 of COVID-19 infection. Relatives gathered in the intensive care room of this vital and dynamic photojournalist, gardener and activist, after receiving 16 days of intensive care from generous hospital staff.
Although vaccinated against COVID-19, Keller was immunocompromised. Low immunization rates make people at risk like her more vulnerable to infection and death. The slogan "vaccines save lives" refers to lives like Keller's.
While photography was at the core of Keller's identity, she was also a multi-talented artist, landscape designer and gardener, educator, activist, naturalist, parent and dedicated caretaker. Keller has traveled extensively, documenting ordinary people and showing a shared humanity and dignity across cultures. She describes herself as a "farm in West Virginia" and the daughter of a stonemason and maternal helper. His rural and working-class origin allowed him to transform modest or routine life events into extraordinary images.
Keller was in the last graduating class of Shepherdstown High School and enjoyed riding his paint horse through the apple orchards surrounding the family farm in Kearneysville. As an adult, she never lived far from the Potomac River, where she found joy and respite in hyacinth walks, mushroom hunts, meditation under sycamore trees and Tai Chi on the historic locks of the channel.
After falling in love with photography at Shepherd University, she enrolled in the University of Maryland's Master of Fine Arts program by loading trucks for UPS in the wee hours before class. For 20 years, Keller inspired art students at Shepherd University, then for another decade at several higher education institutions in DC and Maryland.
Throughout these years she has photographed in Nigeria, Vietnam, Russia, Haiti and extensively in Cuba. At home, she followed stories such as movements for justice, migrant workers and life in women's shelters. Keller's work is included in the library archives of the National Museum of Women in the Arts. The Bridge Gallery in Shepherdstown, owned and run by close friend Kathryn Burns, represented his work.
Keller was well known for her seemingly ageless and fanciful persona. She's curated flamboyant vintage fashion, winter solstice flamingo exhibitions, and studio spaces filled to the brim with imaginative treasures. Pink became his signature color, especially after using it to paint an entire mobile classroom at Shepherd University for his 2004 installation Trailer and Trash – a playful visual satire on rural stereotypes.
Her sense of fun was also evident in her 18-year partnership with Steve Parker. The two were known to cut a rug around Shepherdstown – sometimes in outrageous costumes that invariably featured a vintage hat or headband adorned with flowers and trinkets. In 2015, Parker planned every stop on a road trip across the country in 2015, so that Keller could focus on photographing his Blue Dress to Montana and Back project. Over the years, she's tried to outdo him with not one, but two surprise birthday parties featuring dancers jumping out of papier-mache cakes she had made herself.
Keller began her career as a photographer in 1984, the same year she gave birth to one of her favorite subjects, her daughter Sarah. Keller's daughter grew up on the darkroom floor, their mother's sidekick at openings and karate lessons. Throughout Keller's 60s, she and Sarah planned annual adventures: hiking in Yellowstone National Park, fly fishing in the alpine lakes of the Rocky Mountains, and cycle camping along the canal. CO. A proud and supportive parent, Keller passed on her creativity, fiery nature and love of gardening to Sarah, who is an outdoor writer and scientist, queer organizer and conservation advocate.
In recent years, Keller has channeled his love for the West Virginia landscape and his deep sense of justice into resistance to industrial pollution and climate change. Most Fridays, she could be seen in a red beret, protesting the proximity to the Rockwool factory located near the Kearneysville family farm. After being arrested in Washington DC during a nonviolent action on climate change, she led her cell mates to fun ice-breaking questions for entertainment.
Keller didn't just make art, she lived it. And she has set an example for others in striving to create beautiful and meaningful lives. Her passion, optimism, shameless confidence, loving soul and generosity of time and spirit will be sorely missed. They will also be living in this world through the many ways she has taught others to find the special in everything and in everyone.
Keller is survived by his daughter, Kestrel (Sarah) Keller, 37; her son-in-law Jim Curry, 40, both of Bozeman, MT; her 18-year life partner, Steve Parker, 68, of Shepherdstown, West Virginia, and her ex-husband Ron Keller, 73 of Big Pool, Maryland. Her surviving family in Kearneysville, West Virginia includes her mother, Juanita Anderson Cushman, 89; brothers Rendell Anderson, 56, and Monte Anderson, 69, and respective sisters-in-law Gigi Anderson, 55, and Janice Anderson, 65; in addition to several nieces, nephews, cousins ​​and selected family members. She was predeceased by her father, Robert Anderson.
Keller's public memorial will take place on Saturday, November 13, 2021 at the home shared by Keller and Parker: 83 Minden Street in Shepherdstown, West Virginia. The outdoor gathering begins at 1:30 p.m., with a service at 2 p.m., followed by a short procession on foot to Elmwood Cemetery. Refreshments and celebrations will follow. Relatives are asking for charitable donations to be made for Keller instead of flowers. Bold outfits are encouraged because we remember an unconventional soul who spread pleasure wherever she went.