Best Martial Arts: Sacred Mountain Fighting and Healing Arts | Best of Flagstaff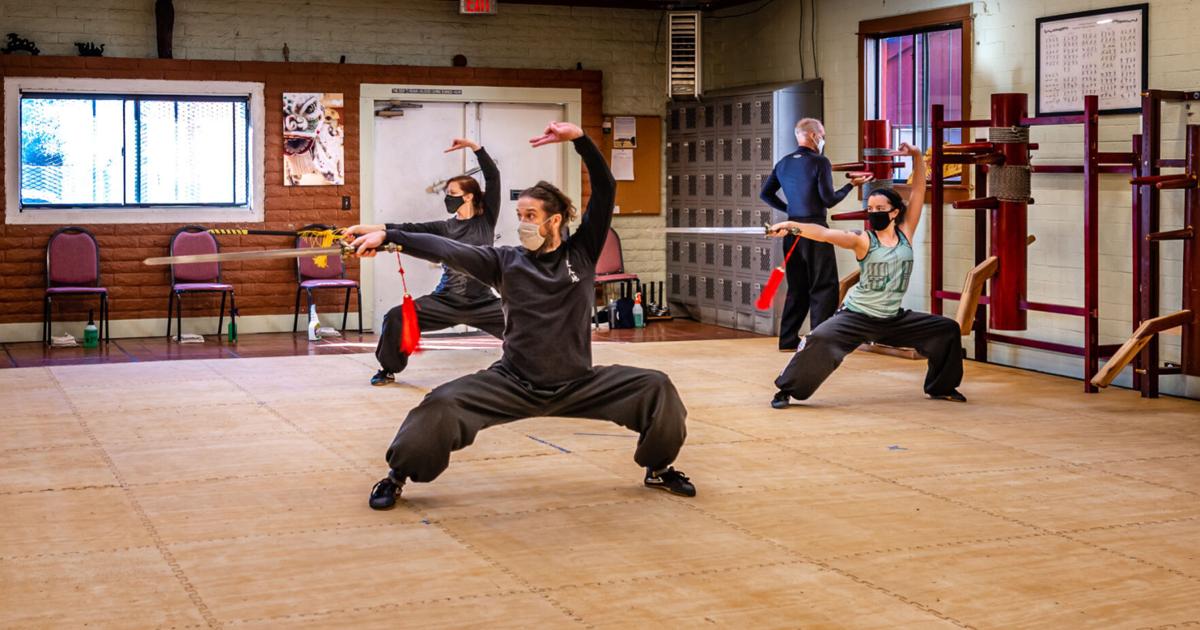 MacKenzie Chasee

For owner and chief instructor of Sacred Mountain Fighting and Healing Arts, Matthew Banks, martial arts were a gateway to come together.
He realized the importance of self-defense following an incident during his freshman year at Northern Arizona University.
"I went to the gym for a while and gained volume, then realized that I still didn't have the self-confidence – the self-awareness that I was looking for," he said. .
One day, while on his way to his regular workout at the campus gymnasium, he passed a group of people on the basketball court practicing forms of karate – different positions, footwork, hitting techniques, blocking and avoidance of movements.
"I stuck my head inside and they said, 'Come in', and I never looked back," Banks said. "It was in 2000."
Fourteen years later, he opened Sacred Mountain in the Southside neighborhood of Flagstaff to provide a resource for other members of the community seeking self-reliance and strength.
Students between the ages of 4 and 70 are currently taking classes taught by instructors with a mixed martial arts background and a passion for helping others. Shaolin kung fu, Tai Chi Chuan, self-defense practice, and traditional Chinese lion dance are among the disciplines taught at the center, and many students embark on a journey of a lifetime to explore different aspects of the art. .
"It's something that is accessible to everyone," Banks said. "I really find that students who stick to it for more than six months tend to stick to it for more than six years.
"If I have students who have obtained their black belt, we don't exactly continue in the same thing; we're actually starting to teach them a whole different kind of martial arts system and modality, and that really helps our students stay engaged and have a lot of fun, "he continued. "And then once they do that for a while and learn, learn, learn all these new things, they realize that 'Hey, these old things that we were doing, we just scratched the surface. ' The world of Chinese martial arts and this sphere is so rich that there is so much you can absorb in it.
Sacred Mountain has made many adjustments to keep everyone safe throughout the COVID-19 pandemic while continuing to share the joy of martial arts. Instructors created videos to send to students before Zoom became the go-to platform for live virtual events, and then welcomed students to the mat with masking and social distancing in place as the vaccines were becoming widely available. Ultimately, students who paid tuition should receive the same guidance and the same in-depth training they expected, whether in person or on screen.
A staple in the Southside neighborhood for nearly a decade, Sacred Mountain takes pride in being a part of the community and regularly gives back in many ways. Women's self-defense classes, regular fundraisers and more serve to strengthen Flagstaff. A recent event, 40 for 40, asked people to donate for each of 40 forms Banks presented to students for his 40th birthday at a local park, which raised $ 5,800 for Flagstaff Shelter Services.
"We really love to reach out and do things that will have a direct impact on the community," Banks said.
And the impact of Sacred Mountain has been felt and recognized from the start.
"We opened in 2014, May 5th was our first day of classes, and we finished second at Best of Flag that year and every year since," Banks said with a laugh. "It's been so long in coming. It is a very great honor to be here and we will simply continue to serve our community and be a part of Flagstaff for many years to come.