Boca Raton June Events | Things to do in the Boca area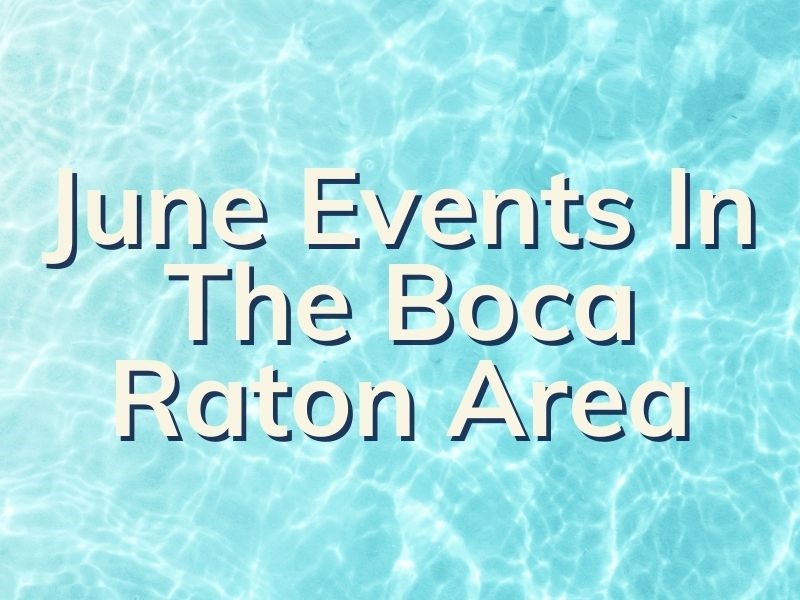 Very well! Here we are. It's hot as the 9th ring is out and the city is just getting started for the summer! Without further ado, here are some of the most exciting and diverse events in Boca Raton this June. As always, we've included the city proper and surrounding area. The highway is never far. Enjoy your month!

52nd Annual Boca Chamber Golf Classic

When: Friday, June 3, 2022 from 7 a.m. to 2:30 p.m.
Where: 501 E. Camino Real, Boca Raton, FL 33432
For the 52nd year, the Boca Raton Chamber of Commerce will host its annual Golf Classic. In a community renowned for its golf and country club real estate, the Chamber of Commerce spares no expense to provide one of the most enjoyable golf events of the year. The event will include cash prizes, rewards, raffles, breakfast, lunch, and even a long drive contest! Polish your clubs and laces for what's sure to be a good time on the links.

When: Thursday, June 16, 2022 from 6:00 p.m. to 9:00 p.m.
Where: Restaurant Benvenuto – 1730 N. Federal Highway. Boynton Beach, Florida 33435
Boynton Beach continues its rise as another heavenly destination for foodies and wine connoisseurs. As the city grows, so do its pockets of subculture, with the Boynton Beach Food, Wine & Brew Fest serving as a celebration of the city's culinary hotspots. The event will include a showcase of some of Boynton Beach's best local food, craft beer tastings and lots of new things to try.

When: Tuesday, June 7, 2022 12 p.m. – 1 p.m.
Where: Lynn University – 3601 N. Military Trail. Boca Raton, Florida 33431
Next week, Lynn University will host a roundtable through the International Business Alliance. This enriching event will feature Michelle Balaun, Director of TrueSelf Branding and long-time fashion industry veteran. The fashion industry embodies the value of good branding and name recognition more than any other, with Balaun taking the lead on the subject. Spend an hour with one of the great minds of style as she imparts gems of knowledge from decades of experience in global branding.
When: Sunday, June 5, 2022. 11 a.m.
Where: Online
Tai Chi is the art of balance through deliberate and calculated movement, stretching and breathing. This ancient practice has long been associated with stress relief, organ health, mental well-being, and even improved bone density. We should leave no stone unturned when seeking productive methods of self-improvement suited to our lives, especially in light of the stressful 2020s and 2021s we have experienced. This live online class is the ultimate way to start your journey to wellness and unity from your living room.
Music at the museum with the quartet con brio
When: Sunday, June 19, 2022. 3:00 p.m. – 4:00 p.m.
Where: Boca Raton Art Museum – 501 Plaza Real. Boca Raton, FL 33432
Drawing inspiration from our greatest film scores, the Con Brio String Quartet will perform some of the most iconic music from our cinematic history. Paired with large-scale backdrops, the Con Brio Quartet completes your immersion – with music from Star Wars, Gone with the Wind, Jurassic Park, The Avengers, and more. This event is a great way to introduce young people to classical music, in a form more palatable to potentially impatient youngsters. Admission to the museum is also included!
When: June 17 – June 19, 2022. 3:00 p.m. – 4:00 p.m.
Where: Faena Hotel – 3201 Collins Ave. Miami Beach, FL 33140
Although a little further out than most of our local events, the Flow State Yoga Festival is a must for any yogi in the area, and there are plenty of them. Yoga and Pilates are such popular activities for many in Boca Raton that we would be remiss not to mention this superb event, bringing together a conscious community to work, play, relax and connect around the ancient practice of yoga. Taking place over three days, the Flow State Festival is a short jaunt from Boca Raton, but it's something anyone interested in yoga should consider, despite the mileage.
For more local happenings and happenings, visit our Boca Raton News & Events page.