game illustrator Waunakee raises money for meals | Arts and entertainment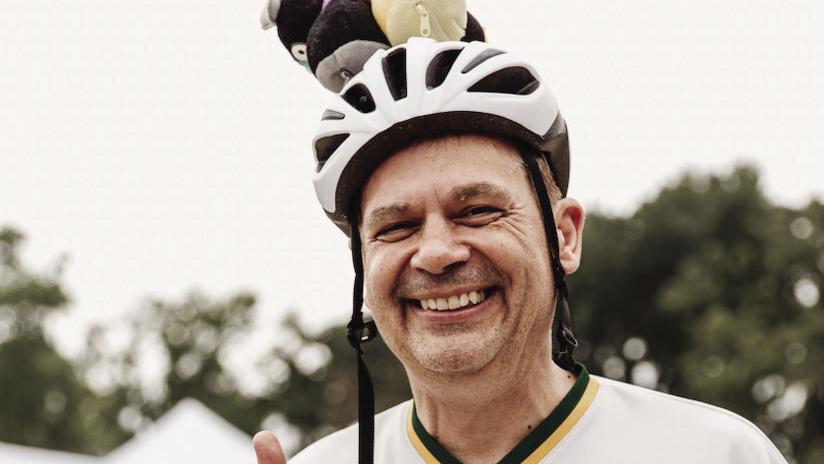 If you spot a man cycling down a rural road with a stuffed duck strapped to his helmet, you'll know that John Kovalic has raised a significant sum to ensure those in need receive farm-fresh food.
As a runner of the Routes to Roots event, the illustrator and designer from Waunakee offered to don the plush version of the Duck of Doom if he raises $ 15,000. This Duck is a card from the popular Munchkin game designed by Kovalic and produced by Steve Jackson Games in Austin, Texas.
During his first year in the FairShare CSA Coalition's fundraising race, Kovalic challenged his readers that if he could raise a certain amount of money, he would carry this duck.
"I had no idea how I could tie it up," Kovalic said. Fortunately, his wife Judith Heise made a Velcro attachment. During the trip, it started to rain.
"The stupid duck was absorbent, and it got heavier and heavier on my helmet and slumped to the side," he said.
The Routes to Roots fundraiser enables the FairShare CSA Coalition to provide financial assistance to low-income families to purchase community-supported farm shares. This is the ninth year that Kovalic has been riding a horse.
Kovalic is the creator of the Dork Tower comics and the online comic he started 25 years ago.
"I have also had the chance to work on a few games which have become international bestsellers," he said. This includes the Apples to Apples game developed by Kovalic and three others in the Madison area that they sold to Mattel. He also worked on Munchkin, the hobby card game Kovalic said people who love Dungeons & Dragons play.
"This whole aspect of the game – the leisure game market, these more advanced board games – their popularity has exploded over the last decade as well," he said.
Munchkin has been translated into 19 languages ​​around the world and sold millions of copies. Kovalic has illustrated over 7,000 cards for the many versions of Munchkin in the game system.
Between the games and his comic book Dork Tower, Kovalic has gained a worldwide following. Fortunately for FairShare CSA Coalition, Kovalic has always been a cyclist, and when his cartoon hobbies and hobby games became his job, he started cooking for a hobby and "became a bit greedy, "he said.
Friends told him about the CSA Coalition rides with rest stops along the way, run by area businesses and local chefs. Runners could also raise funds.
"It seemed like a great idea because the FairShare CSA coalition provides farm-fresh food to local families, which helps local families in need as well as farmers," Kovalic said.
Kovalic quickly became a star in fundraising.
"When I started fundraising, I wondered if it would be possible to tap into this international readership, which is very connected online," he said.
He started blogging about the charity bike ride on his comic book website, dorktower.com. And over the years, he's raised over $ 100,000 for the FairShare CSA Coalition. Kovalic offered incentives, such as picture cards, to donors. According to the coalition, this has enabled CHWs to help more than 400 low-income households access fresh, local produce from farmers in the community.
"This first round, I drew a charity postcard. I said if you sponsor me for $ 25 I'll send you this postcard, which I designed and signed, and which will give you a little edge in the game, Munchkin, if you play it . Kovalic said.
For a little hard work that year, Kovalic raised over $ 4,000. The following year, with a little more effort, that translated into $ 7,000. Kovalic said he started contacting friends about the ride, and one year author Neil Gaiman wrote a limerick and Kovalic illustrated it, again to give to donors. Authors Patrick Rothfuss and Gail Simone have also joined us, so now donors will receive limericks illustrated by Kovalic by the three.
Kovalic also rewards donors with games, buttons and stuffed animals.
"And so by investing a little time and effort in this area, we've raised something like $ 17,000 and $ 18,000 for the FairShare coalition, which is, for a local charity, a really nice feeling. . "
Still, Kovalic feels some pressure, saying, "The people who support the duck make up almost half of what their event raises."
Kovalic's goal this year is $ 15,000. Kovalic said he also receives local support, including at Mohs Martial Arts, where he and his daughter, Louisa, attend classes.
The funds are especially needed now, during a pandemic that has hit the poorest hardest and the resources of nonprofits.
"The outpouring of charity has been fantastic on many different levels from many different organizations. But the need is huge, so you can't stress enough that in recent years charities have been hit hard, "Kovalic said.