Grappling Bulletin: Jiu-Jitsu fighters set to take over MMA in 2022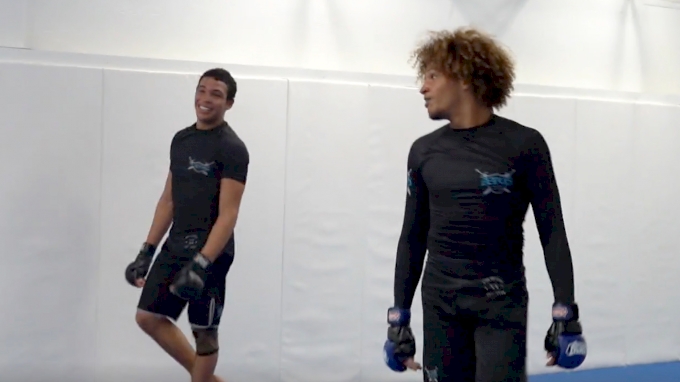 Jiu-Jitsu has always played a vital role inside and outside the ring, providing athletes with a path to glory and financial reward, while reminding the world that the most sophisticated art of grappling is an indispensable part of any fighter's arsenal.
---
Don't forget to watch the Grappling Bulletin podcast, every Monday at 3:30 PM ET. Watch it on FloGrappling.com or the app, or watch it LIVE on YouTube or Facebook.
---
From the earliest incarnation of "unrestricted" events throughout the 20th century to the modern era of professional mixed martial arts, jiu-jitsu has consistently produced many top fighters.
For years, jiu-jitsu has reigned supreme in style versus style fighting. Later, as MMA grew and became a professional sport, the value of jiu-jitsu was recognized both for the talent pool of athletes and as an invaluable resource of effective fighting techniques.
Just think of how many big names in MMA have come out of jiu-jitsu. From Royce Gracie to BJ Penn, Demian Maia to Fabricio Werdum, Mackenzie Dern to Ronaldo "Jacare" Souza, Rodolfo Vieira to Marcus "Buchecha" Almeida and many more.
And those were just the jiu-jitsu champions – many fighters started out in jiu-jitsu and rose to the highest ranks of MMA; Gilbert Burns, Rafael Lovato Jr. Charles Oliveira, Brian Ortega, Tony Ferguson, Kron Gracie, Ryan Hall, even Nick and Nate Diaz.
It used to be that jiu-jitsu fighters had few options and were forced to switch to MMA in search of making money. In the late 90s and early 2000s, the ADCC divisions were a mix of MMA fighters and jiu-jitsu stylists, with a handful of other martial artists. Early ADCC champions, such as Mario Sperry, Renzo and Royler Gracie, and even Jeff Monson and Mark Kerr, bounced between grappling and MMA.
Not everyone succeeded. Many champion grapplers have tried MMA and quickly returned to their roots. Marcelo Garcia had a fight and decided to focus on grappling. Saulo and Xande Ribeiro tried but never pursued MMA as far as, say, Andre Galvao, who fought a total of seven times between 2008 and 2010.
Modern Multisport Combat Athletes
In recent years, fewer and fewer notable names from the world of jiu-jitsu have made the switch to MMA:
ADCC champions Mackenzie Dern and Rodolfo Vieira started fighting professionally in 2016 and 2017, respectively. Both now fight regularly for the UFC.
Americans Garry Tonon and AJ Agazarm are from the same generation and started their MMA careers a year apart, with Tonon making his debut in 2018 and Agazarm's first fight in 2019.
Marcus 'Buchecha' Almeida made his long-awaited MMA debut for ONE Championship in 2021 and is 2-0.
From grappling to MMA in 2022 – The next wave
Grappling has become a lucrative career for many competitors and there is no longer a financial incentive to switch to MMA like there used to be, but a few die-hards still want to test themselves in the ring. Here's who we expect to fight in 2022:
Garry Tonon (6-0) finally has his shot at the title. After a number of cancellations/postponements, Tonon will face ONE Championship Featherweight Champion Thanh Le (12-2) on March 11.
Kody Steele, 2-0 in amateur MMA, will make his pro debut Feb. 6 in San Antonio. Steele, a power wrestler with serious knockout power on his hands, takes on Jessee Gengler (6-9-0).
Felipe Pena was seen training in MMA and says he will stop competing in the gi so he can focus his efforts on ADCC 2022 and switch to MMA.
Fighters waiting to return to the ring include:
Talita Alencar, who made her MMA debut in July 2021, has signed with Titan FC.
Yuri Simoes last fought in November 2020 and expressed his displeasure that ONE Championship left him in limbo.
The Atos team: from Jiu-Jitsu to MMA
We visited the Atos team at the San Diego jiu-jitsu powerhouse last week, and while we were there we got to watch the Ruotolo brothers train in MMA alongside their trainer Andre Galvao.
LOOK:
Tye Ruotolo and Kade Ruotolo have both said they want to fight MMA, and they're not alone. Galvao, who last fought in MMA in 2010, signed a deal with ONE Championship at the end of 2020 and we could see him back in the ring very soon, potentially before his ADCC superfight with Gordon Ryan in September.
Atos teammates Kaynan Duarte, Lucas "Hulk" Barbosa and Rafaela Guedes (among others) have all hinted at MMA plans for 2022. The Ruotolos, who just earned their black belt in December, have made their desire clear. to compete in both gi and no-gi events in 2022, which raises questions about whether their plans are realistic for the outcome of the youthful exuberance.
Tye Ruotolo may be fighting MMA, but he has a high profile grappling match coming up this weekend when he takes on Levi Jones-Leary on WNO: Craig Jones vs. Pedro Marinho. Watch it on January 21.
WNO: Craig Jones v Pedro Marinho
---
Grappling News Summary
Read on for a quick breakdown of the top stories from around the world of jiu-jitsu and grappling.
Crypto Coin Adds Another $50,000 To ADCC Superfight Prize
The 2022 ADCC superfight between Andre Galvao and Gordon Ryan just got a big boost and is expected to be one of the biggest paydays in grappling history.
Metaverse Dog, a cryptocurrency sponsor of the 2022 ADCC World Championships, contributed an additional $50,000 to the prize fund.
The ADCC federation is investing $50,000, as is ADCC 2022 World Championships promoter Mo Jassim (with his team).
The winner of the superfight will take home $100,000 and the runner-up will win $50,000. It ranks among the biggest prize money in jiu-jitsu history.
2022 ADCC World Championships
Musumeci will make his first WNO title defense
WNO 135-pound champion Mikey Musumeci will defend his title for the first time on January 21, taking on the much-loved Estevan Martinez.
Musumeci added his name to the event just over 10 days later. He replaces the injured Jon Calestine, who injured his wrist in training.
Martinez is an IBJJF No-Gi World Champion in the 122.6lb division. He competed on WNO in a 145-pound match and is looking to earn his first victory over the promotion.
Musumeci last competed in December at the IBJJF World Championships in gi. He went 11-1 in 2021, winning 8 of 10 games by submission.
Mica Galvao for the ADCC trials in Brazil
18-year-old black belt Micael Galvao will be among the competitors in the ADCC trials in Brazil next month.
Registration is currently open for the ADCC South American Trials, which will take place in February.
The list of competitors has not yet been released, but we have received confirmation from a group of ADCC hopefuls who are sponsored by Mo Jassim.
Among them is Galvao, who never competed under ADCC rules but had significant no-gi success in 2021, going 8-2 in no-gi matches.
For the full list of sponsored athletes who will be competing at the ADCC South American Trials, click here.
2022 1st South American ADCC trial
---
Quick hits:
Nicky Rod does things with Nicky Rod
Episode 3 of our WNO vlog is here and features B-Team's Nicky Rod doing things with Nicky Rod.
The King of Porrada
One half of the January 21 WNO main event, Pedro Marinho is all about the porrada. Watch the video above and see for yourself.
Technique Breakdown: No-Gi Half Guard Under Hook Sweep
How did a simple classic half-guard come back to become a valuable tool for non-gi grapplers? Lachlan Giles explains.
Wiltse's tips for crushing shoulder pressure
If you want the kind of punishing shoulder press that brings your training partners to tears, then check out these details from Andre Wiltse.