How the King of Fighters connects to Garou: Mark of the Wolves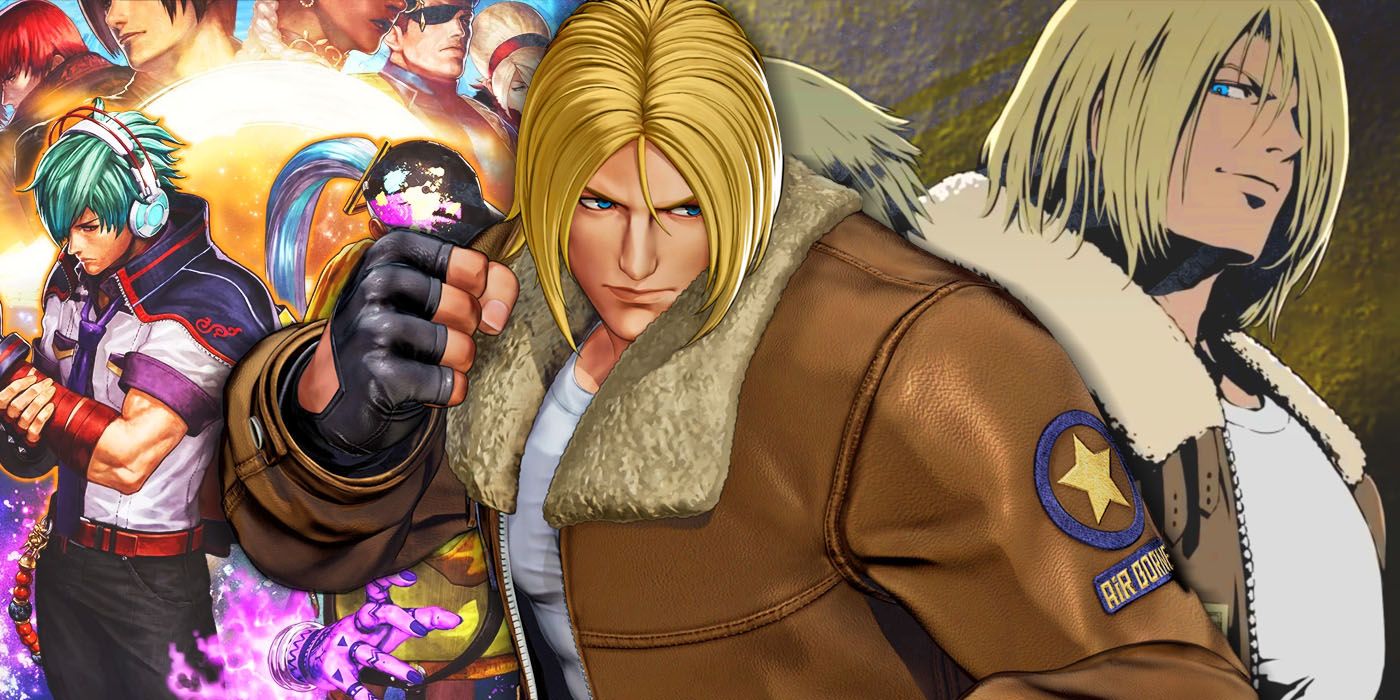 The most anticipated addition to The King of Fighters XV is Garou: Mark of the Wolves. This is how Garou relates to the fighting game.
SNK's long-running crossover fighter franchise king of fighters returns in the first major fighting game of the year, King of Fighter XV. Gather lists of The Art of Fighting and Fatal Fury for three-on-three team battles, king of fighters has already announced DLC characters, one of the most anticipated teams being from the 1999 Neo Geo game Garou: Mark of the Wolves. Were itself occupies a particularly important place in king of fighters mythos, as the ninth and final match of the Fatal Fury series.
Were takes place about a decade after the events of 1995 Real Bout Fatal Furywho saw Fatal FuryPopular protagonist Terry Bogard kills powerful South Town crime lord Geese Howard and ends up avenging his adoptive father. Terry adopts Geese's young son, Rock Howard, to become his own martial arts protege, with Rock serving as the protagonist in Were. Wearing an outfit similar to that of his mentor and surrogate father, Rock possesses a martial arts style that combines those of Geese and Terry. Terry himself, however, is the only returning playable character in the Fatal Fury series – an older Terry sporting a slightly different set of moves than he had in the past Fatal Fury securities.
RELATED: Street Fighter Told His Craziest Story With Final Fight's Cody
Were saw a new high-stakes martial arts tournament take place in South Town, led by Rock's evil uncle Kain R. Heinlein and his trusty lackey Abel Cameron. It featured a slew of new fighters from around the world with their own unique fighting styles. Developers have actively sought to differentiate Were from Fatal Fury, with an added focus on balancing the roster and combat system, including gameplay mechanics that allowed players to counter or perform special attacks when their health meters had dropped to a certain point . While Were was widely acclaimed, it was only released in North America for the Dreamcast until it was included on an SNK compilation in 2007.
the Were DLC pack in King of Fighters XV features a team consisting of Rock, Gato, and Bonne Jenet joining in on the crossover combat action. Gato is the older brother of a comrade Were playable character Hotaru Futuba, with Gato constantly looking for stronger opponents, much like not like street fighterit's Ryu. Jenet is an English pirate who came to South Town in search of treasure and uses projectile attacks to keep opponents at bay. Playable appearance of Rock in one hand king of fighters the title was The King of Fighters XIV as a DLC character – with non-canonical in-game events with the widest Fatal Fury storyline – although Rock has also appeared as a guest fighter in other SNK crossover titles.
In the 20 years since the launch of Were, there has been fan and developer interest in continuing the fighting game's story, including that of longtime SNK director Nobuyuki Kuroki, who created the character of Rock Howard. In the meantime, Rock has appeared in various animated adaptations of the Fatal Fury and king of fighters franchises while SNK continued its development of fighting games on king of fighters cross-series rather than its individual properties. If there ever was a Fatal Fury rebirth to take place, Rock and the scenario established in Were serves as a prime location for the franchise to return to.
KEEP READING: Stunning Street Fighter Art Captures Chun-Li Preparing To Kick Ass
Tom Holland Really Wants to Star in a 'Dark' Jak and Daxter Live-Action Movie
About the Author