Martial Arts Trainer Gives Back to Community with Free Classes | News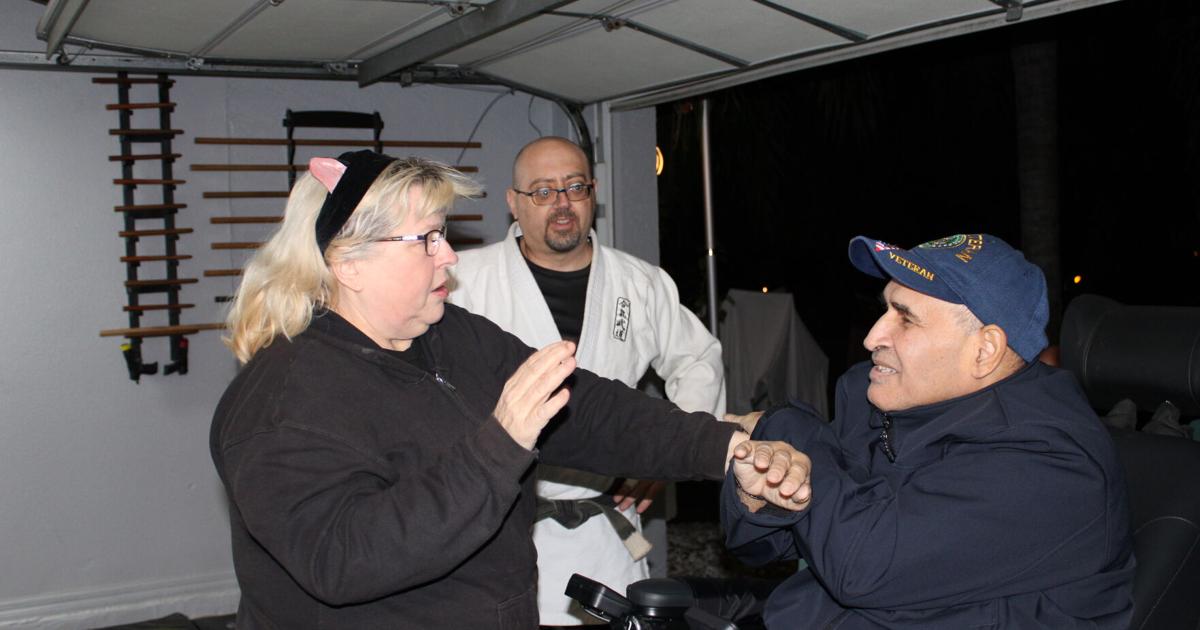 SPRING HILL — It's a matter of discipline. Respect. Tradition. Give back to the community.
Joseph Lotrecchiano, 49, believes that martial arts teaches all of this and more, and he is eager to share his knowledge with anyone who signs up and agrees to follow these principles.
He has a black belt in Aikibudo, but it's not about belts or ranks or status, Lotrecchiano said on a recent Tuesday night at his home. It's about using your knowledge for good.
He said he felt bad that many parents could not afford to pay for their children's education, and the same goes for many adults, and that he "pays it forward", sharing this what it did for him.
"I opened this school in 2009," he said. "I've never charged anyone a dime."
For example, he said, no one wanted to train Charlie Figueroa, a 63-year-old disabled army veteran from Port Richey who is in a wheelchair.
"He went to other schools and they didn't allow him," Lotrecchiano said.
Figueroa heard about the school and called to ask if he could train there. Lotrecchiano found a way for Figueroa to train.
"If you want to go down to Ybor City and you need a bodyguard, take him with you," he said. "Even in a wheelchair, he can manage very, very well."
Another student, Tracy Sacks, 55, who describes herself as a "housewife," is about to be ready to teach Aikibudo to children, Lotrecchiano said.
And Ken Carr, 39, recently had the opportunity to use his training in real life. He said he liked the family environment of the Lotrecchiano dojo.
"We're all member types," he said. "We all sort of hang around."
Sacks is about to get her black belt and she will coach a class of 12-16 year olds once a week on Saturday mornings.
"I'll look, but it's an opportunity for her to learn how to teach and pass on the art," Lotrecchiano said.
At a recent adult student night in his garage dojo, Lotrecchiano watched Sacks and Figueroa practice under his watchful eye.
"Fine," he said each time after they fought, then gave them instructions on what to do next. After their exercise, they greeted each other.
Figueroa said he loved the dojo and working with Lotrecchiano, and he is grateful for the training.
"He is very flexible, he has trained in different martial arts. When he has something new to practice, we practice it," Figueroa said.
Sacks has been practicing martial arts for five years. She loves what she does here.
"There's no one reason to love him," she said. "It's either you're going to like it or you don't. I guess I fall into the category where I like it.
Lotrecchiano's day job is as an accountant at the Brevera hospital: "Accountant by day and ninja by night," he says with a smile. He's been there for about 17 years.
He was born in Italy and his parents brought him to the United States when he was 5 years old. He grew up in New Jersey, where he lived until 2001, when he moved to this part of Florida because his wife's family lives here.
He had done things for other people and he wanted something for himself, he said, so he took up martial arts.
Aikibudo can be used for "mind and body," Lotrecchiano said.
When it comes to the mind, it's about "having faith in what you're doing," he said. "The physical aspect is that you are able to defend yourself."
You need a clear mind to get the most out of training, he said.
Practice continued, with Lotrecchiano showing Sacks some new techniques as Figueroa watched and Carr prepared to begin his practice.
"My dojo is open to the community," Lotrecchiano said.