Physiotherapist discusses gait disturbances with patients with Parkinson's disease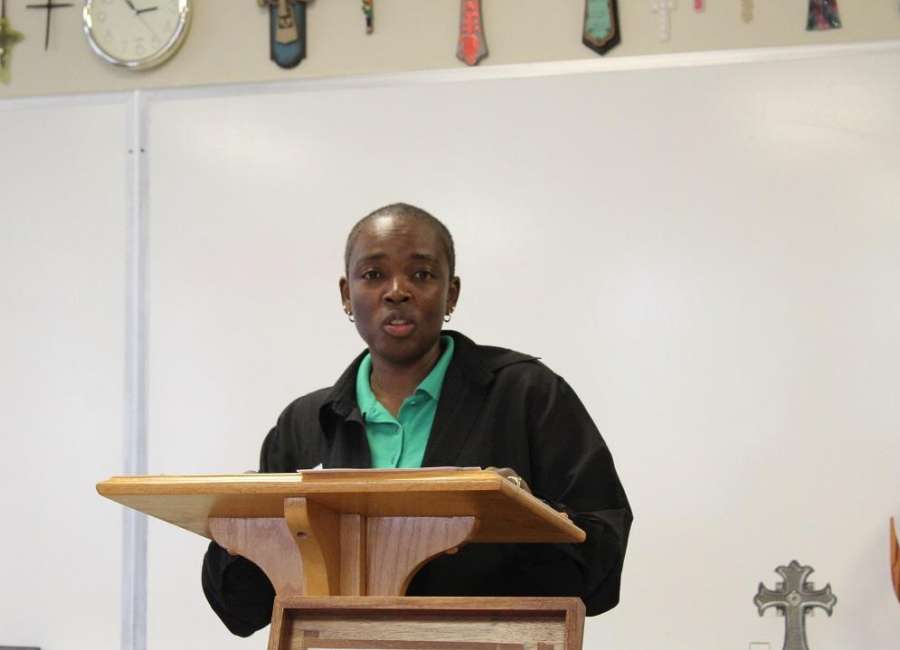 Jeffrey Cullen-Dean/The Newnan Times-Herald
Dr. Paulette Lewis educates the Newnan Parkinson's Support Group on mobility issues that can result from Parkinson's disease.
Physiotherapist Dr Paulette Lewis visited Newnan Parkinson's Support Group to talk about the impact of the disease on a patient's ability to move.
Impairment of a patient's gait is one of the most disabling symptoms of the disease, Lewis said.
Gait and balance disorders are present in the early stages of Parkinson's disease and are excellent predictors of falls and the risk of falling.
"As the disease progresses, it's harder to get improvements in those areas if you can't really get the trunk involved the way you need it to be. The trunk is the center where you have tendency to see difficulties with balance and gait," she says.
As Parkinson's disease progresses, patients may experience impaired standing, walking and balance, which impairs their gait, Lewis said. The steps shorten and the advancement of the legs decreases and begins to give the impression that the patient's feet are glued to the ground.
Lewis said this feeling is known as gait freezing.
According to Lewis, 7% of people diagnosed with Parkinson's will have a frozen gait. After five years, this number increases by 28%.
She added that approximately 60% of patients with Parkinson's disease fall each year and that 70% of these falls are recurrent.
Exercise is a common method for improving difficulties resulting from Parkinson's disease, according to Lewis.
Mobility issues related to the disease are also improved with dopaminergic drugs, she said.
Dopamine is a chemical messenger in the body that helps people feel pleasure. Lewis said it plays a role in learning, motivation, heart rate and blood vessel function, sleep, mood, kidney function and attention.
She added that exercise will help the effects of the drug in the body.
For patients with Parkinson's disease, she suggested yoga, tai chi, walking or tandem biking as exercises to help relieve symptoms of the disease.
"It's important that you do something physical, so that the medications you need can benefit you," she said.
The support group is also affiliated with the PD Advocate program, which provides trained advocates to help new patients with Parkinson's disease.
For more information, email [email protected]
The Newnan Parkinson Support Group meets the second Tuesday of every month at 2:30 p.m. in the Newnan First United Methodist Church Annex Building. His next meeting will be on July 12 and will feature Paulo Manso de Sousa of Southern Arc Dance, who will speak about the dance studio's Dance for Parkinson's program.