Plymouth Harbor Cruise on the Pilgrim Belle | Around the city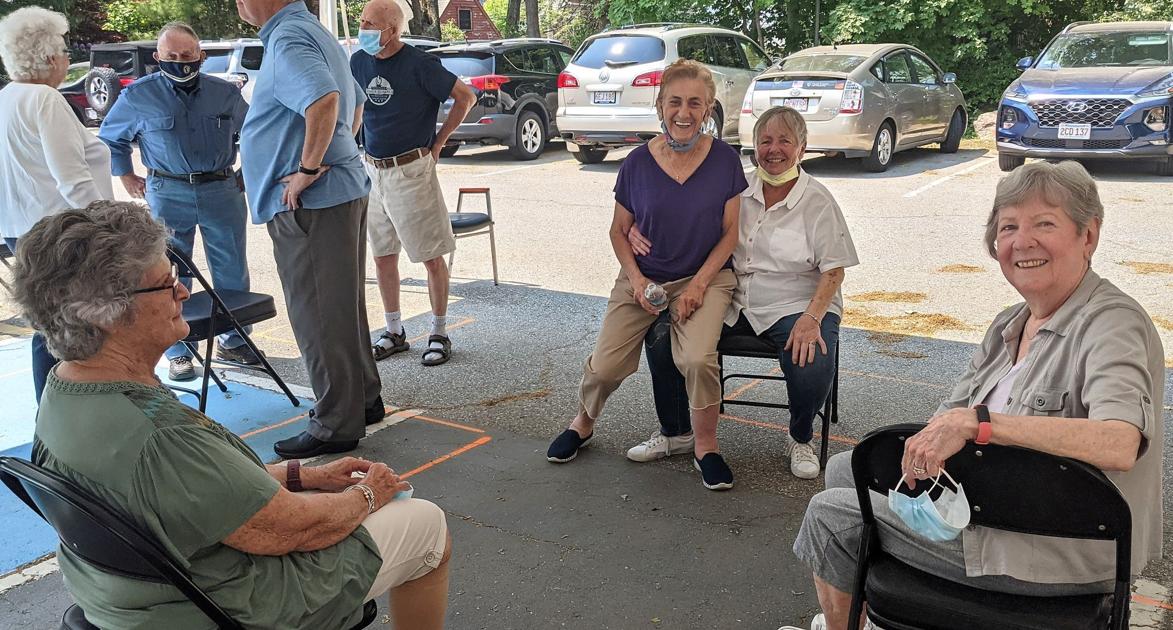 Join us for a trip to Plymouth, MA on Thursday, September 2nd. We will leave Foxboro from the St. Mary's parking lot at 9:30 am and travel by coach to Plymouth to cruise Plymouth Harbor in style aboard the Pilgrim Belle, a Mississippi-style paddle steamer. We'll enjoy a 75-minute narrated cruise through this historic town and seaport, followed by lunch at the Tavern on the Wharf restaurant. For lunch, you can choose between baked New England cod or chicken marsala. After lunch we will enjoy a wine tasting at Plymouth Bay Winery, then have some free time in Plymouth city center before returning home. The cost for this trip is $ 101 for Foxboro residents and $ 106 for non-residents. The price includes all tips. Foxboro residents can begin registration on Thursday, June 17 with your payment, and non-resident registration begins July 1 with payment.
TAI CHI
Tuesdays, 8:30 am to 9:30 am, start your day with peaceful meditation and Tai Chi movement with instructor Elijah Swain. Elijah is a 9th degree black belt and owner of Tai Jing Academy. For the month of June, Tai Chi lessons will be offered FREE of charge for all participants! This is your chance to try. Our thanks to the Friends of Foxboro Seniors for helping to fund the program. Call us to register.
HIP HOP DANCE CHAIR EXERCISE – Under the tent
On Wednesday June 9 at 3:30 p.m. we will be offering a hip-hop dance / chair exercise class in our tent. This hour-long exercise class will take us back in time on the "soul train" and we will chair dance to crisp hip hop and R&B songs. We will use creative props such as African drums and maracas to bring our soul train journey to life. Call to register.
WELCOME BBQ – Under the tent
After 15 months of non-meeting in a large group, we welcome you back to the senior center to enjoy a meal with friends, old and new. Join us for a BBQ on Thursday June 10 at noon. We will serve burgers, a side dish and a drink. The cost is $ 4 per person and you must register in advance. Vaccinations are strongly encouraged.
ICE CREAM TRUCK
As summer approaches, come enjoy a free sweet treat at the Seniors Center on Thursday, June 17 at 2 p.m. courtesy of Bridges by Epoch. The number of participants will be limited, so you must register in advance to participate.
BRANCH PLANNING PROGRAM
On Monday, June 21 at 2 p.m., join the experts of Keller Williams' real estate team Sue Marshall at the Seniors Center as they walk you through the intricacies of estate planning. Register in advance.
PAOLO DIGREGORIO – BAROQUE ROME
History teacher Paolo DiGregorio will return to the senior center on Wednesday 23 June at 5 p.m. to present his program on Baroque Rome. During the 16th and 18th centuries, Rome, the Eternal City, underwent an enormous physical transformation, as architects, sculptors and artists decorated the city with countless churches, palaces and fountains. Paolo tells us the eventful, often violent, story of the characters and personalities who shaped Baroque Rome. Please register in advance.
COFFEE AND Donuts !!
Starting in June, our popular coffee and donuts will return to the senior center from 8:30 am to 11:30 am. At the moment you need to have your coffee / donuts outside on our picnic tables or in the tent and we will use disposable cups as well.
MEN'S FITNESS LESSONS
The senior center offers another men's fitness class on Thursdays at 10:35 a.m., starting June 10. This 6 week program is designed to help older men get moving and feel better. We combine fitness and corrective exercises to relieve joint pain and promote better mobility. All ages and fitness levels are welcome. The program is hosted by Steve Avellino CFT, CES and takes place June 10, 17, 24, July 1, 8, and 15. The cost is $ 42 and must be paid at the time of registration.
BASIC WORKOUT USING ROTATION MOVEMENTS
This 6 week basic training program is designed to stabilize the core using movements that we don't normally use in everyday life. The techniques learned during this course will be ideal for posture, back pain and incontinence. This program is hosted by Steve Avellino CFT, CES and will be offered on either Monday or Thursday. Monday classes will start at 11:45 a.m. on the following Mondays: June 21, 28, July 12, 19, 26 and August 2. Or you can choose to take the course Thursdays at 9 a.m. on the following Thursdays: June 17, 24, July 1, 8, 15 and 22. The cost of the 6 week Monday or Thursday program is $ 42. Places are limited and you must register in advance with your payment.
TECH 101 – iPhone Basics
Are you getting the most out of your iPhone? Come to this Tech-101 iPhone Basics Course on Wednesday, June 16 at 3:30 p.m. or 5 p.m. to learn some tips and tricks for this amazing device in your pocket. Register in advance.
SENIOR DINNER – TAKE AND GO
For the month of June, we continue to host a weekly Grab and Go Senior Supper on Wednesday at 4:30 PM. Just come to the senior center and we will give you a packed lunch. In addition to our "Grab and Go" dinners, starting in June, we will also offer you the possibility of enjoying your senior dinner at the senior center with friends in the tent. Quantities are limited, so you must call us in advance to register. Due to limited seating, when registering please let us know if you will be joining us in the tent or if you will be taking your meal home. Suggested donation of $ 3 to HESSCO.
MEN'S BARBECUE – Under the tent
On Wednesday June 23 at noon, and once a month, men are invited to a BBQ at the senior center where they can eat and discuss men's issues. The cost for this program is $ 3. If you wish to join us, you must register with your payment of $ 3 before the Tuesday before the BBQ.
LUNCH OUT
Our next lunch outing will be Thursday June 24 at 1 p.m. at Jake n Joe's restaurant. Call us to register by Monday June 21 and meet us at the restaurant on the 24th. For those who require transport by van, arrangements must be made before Monday 21.
READING CLUB
Our Seniors Center Book Club will resume meetings on Monday, June 7 at 11 a.m. This program is designed for older people who just enjoy reading or listening to books on tape. If you are interested in participating in the Book Club, call Christina at 508-543-1234 to register in advance. Weather permitting, we can move the meeting outside to the picnic area to soak up the sun.
VETERANS CLUB
The next Veterans Club meeting will be on Monday June 7th at 2:30 p.m. The mission of the Veterans Club is to create a listening session around Veterans and their stories to ensure that this living story will never be forgotten.
In addition, important veterans issues will be discussed under the leadership of Foxboro Town Veteran Services Officer Ally Rodriguez.
To comply with regulations, coffee and donuts will temporarily not be served.
Registration is required to allow the installation of the furniture.
CINEMA DAYS IN JUNE
We will be showing the following Netflix movies at the Seniors Center at 2 p.m. on Thursdays in June:
1 – On June 10, the film presented will be "The Dig". On the eve of World War II, a British widow (Carey Muligan) hires a self-taught archaeologist (Ralph Fiennes) to unearth mysterious formations on her land, leading to a staggering discovery. This is based on a true story.
2 – On June 17, the film presented will be "The Trial of Chicago 7".
This film follows the Chicago 7, a group of anti-Vietnam protesters accused of conspiring and crossing state borders with intent to incite riots at the 1968 Democratic National Convention in Chicago (with Michael Keaton, Joseph Gordon-Levitt, Eddie Redmayne and Sacha Baron Cohen).
Register in advance for some or all of our June movie days.
FLEXIBILITY AND STRENGTH COURSE
Join us for the flexibility and strength classes on Tuesdays at 12:15 pm. These classes will be facilitated by Jenn McBride, PT, DPT of Bay State Physical Therapy. Each week, we will meet outside at the senior center for a mix of upper and lower body strengthening, with balance, functional movements and stretching.
Our goal is to help participants feel more confident with their movement during activities at home and in the community. Space is limited, please call to register in advance.
BLOOD PRESSURE CLINIC
At 9 a.m. on Tuesday, June 8, there will be a free blood pressure clinic at the senior center. Blood pressure checks are done by Foxborough Deputy Chief of Fire and Public Health Nurse Tom Kenvin, and free clinics are held the 2nd and 4th Tuesday of each month at 9 a.m. Call us for an appointment.
SHINE
You can get health insurance information and assistance through the Serve Everyone's Health Information Needs (SHINE) program. A SHINE advisor is available on Tuesdays from 3 pm to 6 pm for a "virtual" appointment by phone or in Zoom appointment.
This program provides free, confidential health insurance advice and assistance to Massachusetts residents who are or will be eligible for Medicare and their families.
Call for an appointment.