Utah teens collect food to help starving children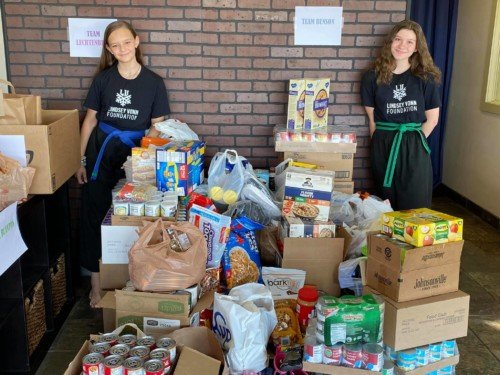 On Tuesday, September 21, Utah teens Maitri Beck and Katelyn Zitting completed a food drive, coordinated with Murray Utah's Children's Pantry, Murray Area Chamber of Commerce, Personal Mastery Martial Arts and CONNECT Universe, aimed at feeding starving children in their community.
Beck and Zitting are members of the Personal Mastery Martial Arts leadership program in Sandy, Utah. Empowered teens got into food collecting for several reasons. They wanted to help needy children in their community, they wanted a real-world practice implementing the leadership skills they had learned, and they fulfilled a commitment to the Lindsey Vonn Foundation.
The Children's Pantry is located in Murray, Utah, and supports hundreds of people each week with food donations. The mission of the Pantry is to end child hunger in their community by providing direct assistance to community members in need. They strive to give all members of their community equal access to nutritious food, regardless of race, religion, national origin, disability or personal preference.
Hearing about the teenager's efforts and how it relates to World Peace Day, Sherry Van Bibber of the Children's Pantry said, "It's so important for teens to be of service. Especially when they see how their efforts directly affect those in need. The service creates an infectious and positive feeling. "
Beck and Zitting received a one-year Leadership Fellowship at Personal Mastery Martial Arts, through the Lindsey Vonn Foundation. Vonn, a former Olympic gold medalist, helps deserving teens fund leadership and personal growth experiences through her Colorado-based foundation. The Lindsey Vonn Foundation offers scholarships and programs for education, athletic and enrichment programs to give future generations the tools they need to achieve their goals and discover their inner courage.
The food drive was part of a multi-faceted effort not only to help starving children in the local Utah community, but also as part of the celebration of World Peace Day and an act of service associated with the worldwide launch of the CONNECT Universe charity.
Beck is 12 years old and lives in Salt Lake City and is a Tae Kwon Do Blue Belt. "I really wanted to do something that would have a positive impact on our community and help the kids who really needed it. Beck said. Beck trains with his mother and younger brother and they make the journey to the black belt as a family.
The food collected by Beck and Zitting has been added to other donations collected from the community and will help feed hundreds of local families over the coming weeks.
Zitting is 15 and lives in Sandy, Utah, and is a green belt on the Personal Mastery Martial Arts executive team with his mother and brother.
"My parents always taught me that service to others is important and I learned a lot from their example. It seemed like a great project to help others in our community, "Zitting explained.
The food drive will peak on Monday, October 4 at 7 p.m. Beck and Zitting will lead a team of fellow leadership students in filling hundreds of backpacks with food from the food drive. The backpacks will then be given to the children in the community to take them home so that they have food for the following weekend.
For more information, contact Brett Lechtenberg at Personal Mastery Martial Art. Email is [email protected] Telephone: 801-718-3851
Location Information:
Personal mastery of martial arts
8663 Highland Drive, Sandy, UT 84093, Sandy, Utah 84093
+18019471010
Media contact
Company Name: Personal mastery of martial arts
Contact: Brett Lechtenberg
E-mail: Send an email
Telephone: 8017183851
Country: United States
Website: http://personalmasterymartialarts.com