What to know about pulmonary rehabilitation for COPD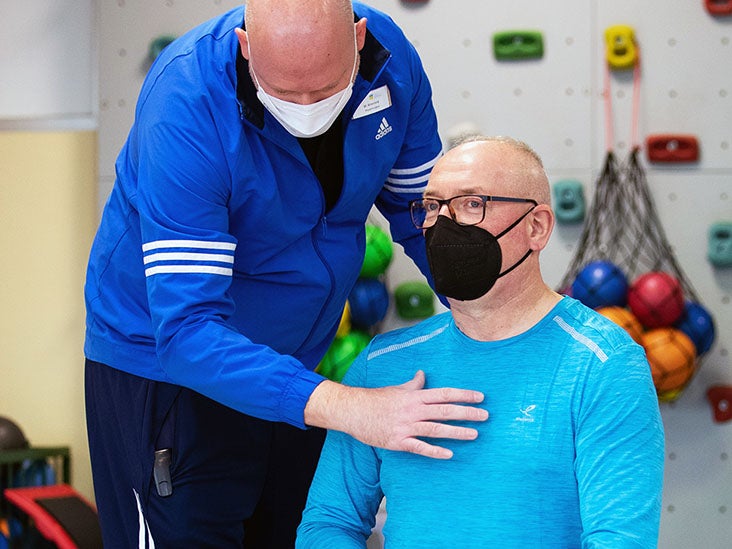 Pulmonary rehabilitation refers to a medical program that aims to help people with lung diseases breathe better and maintain a better quality of life. There are many benefits to enrolling in these programs.
Chronic Obstructive Pulmonary Disease (COPD) is a group of long-term conditions that cause airflow blockages and breathing problems. It affects 16 million people in the United States.
A person with COPD may have several advantages to participate in a pulmonary rehabilitation program. These include building strength, reducing symptoms of anxiety or depression, and making everyday tasks easier.
Other components of these programs include education and counseling. A participant can learn to cope better with their condition and feel better.
Keep reading to learn more about pulmonary rehabilitation programs, including their various components, the enrollment process, and how they can help people with COPD.
Pulmonary rehabilitation is a comprehensive outpatient program of exercise and education for people with COPD. It is about training people on the following aspects: exercises, breathing techniques, education and advice.
That consists of two to three weekly sessions that last several weeks or months. The program provides the tools and knowledge people with lung disease need to manage their symptoms and improve their quality of life.
A rehabilitation team administers the program. Its members include:
doctors
nurses
respiratory therapists
physiotherapists
dietitians
exercise specialists
The team works together to tailor the program to a person's particular needs.
Although the program has the potential to provide several benefits, some aspects of the training may carry some risks. However, a medical professional supervises the exercise sessions, which means that if a participant has a serious problem, they can receive treatment immediately.
Pulmonary rehabilitation involves various Components:
Physical training
The goal of physical training is to strengthen the muscles that play a role in breathing and other muscles in the body, such as those in the arms, legs, and back. Exercise also increases flexibility and endurance, which can make it easier to perform everyday tasks.
When engaging in physical activity, a person may need to adjust their oxygen therapy and use medications that open the airways. Additionally, before a healthcare team designs a personalized program, a person may need to undergo the following tests:
Stress test: This test measures heart rate, oxygen and blood pressure during exercise.
6 minute walk test: Medical professionals use this test to determine how far someone can walk in a short time.
Breathing tests: These tests assess lung function.
Breathing training
Breath training can involve teaching people how to use the following techniques:
These techniques can help a person control their breathing and avoid feeling short of breath, especially when they are stressed or engaged in physical activity.
People may also find that these techniques help clear mucus from the lungs.
Nutrition advice
Nutrition counseling involves teaching people what foods to eat and how to prepare them. This helps ensure that a person is getting enough essential nutrients in their diet.
For some people, a dietitian may also advise taking certain dietary supplements, sticking to a weight loss plan, or taking certain medications to achieve program goals.
Psychological counseling
Because people with long-term lung conditions may suffer from depression, anxiety, or other emotional issues, pulmonary rehabilitation provides psychological counseling.
This may also include stress management training.
Education
The delivery of the educational aspect of the program may take place in individual or group sessions. Health professionals offer advice on various topics related to the lung condition in question and answer participants' questions.
Through the program, people can learn how the lungs work and better understand:
taking medicine for lung conditions
stop smoking
recognize and manage a flare-up
perform daily tasks in a way that conserves energy
avoid lifting, reaching and bending
According to the COPD Foundation, pulmonary rehabilitation can benefit people with lung disease by:
increase exercise capacity
decrease in shortness of breath and shortness of breath
reduce depression and anxiety
increase stamina and energy levels
enhance feelings of well-being
improve the ability to perform daily tasks
increase the ability to manage lung disease
promote active communication with healthcare teams
allowing people with similar concerns to connect and share ideas
Research indicates that the program is effective and provides several benefits.
Impact on survival rates
A study 2020 looked at the effects of pulmonary rehabilitation following hospitalization for COPD. The researchers compared the effects of enrolling in a program with those of not enrolling. They looked at enrollment within 3 months of discharge from hospital and later.
Although enrollment within 3 months was rare, it was associated with significantly higher 1-year survival rates than enrollment after 3 months or no enrollment.
However, the study had several limitations. For example, participants who started a pulmonary rehabilitation program within 3 months were younger and less frail than those in other groups.
Beneficial for people with COPD
an older one balance sheet 2013 reviewed research that explored the value of pulmonary rehabilitation for COPD. The authors report that pulmonary rehabilitation may have the following benefits:
reduce shortness of breath
improve endurance and strength
improve psychological health
reduce hospital admission rate
increase the ability to perform daily activities
improve a person's quality of life
Yes, although people attend sessions in a hospital or clinic, they can do some exercises in the program at home.
A 2015 research evaluated the effectiveness of the exercise component of home-based pulmonary rehabilitation. A total of 29 people participated in an exercise program while a control group of 15 people did not exercise. The intervention involved sessions 5 days a week for a total of 24 sessions. The researchers concluded that home pulmonary rehabilitation improved exercise tolerance, decreased shortness of breath and improved quality of life.
Below is information on registration fees and finding a program:
Cost
The cost depends on the program, its location in the country, and insurance coverage. A person can ask their insurer whether and to what extent they provide coverage.
Also, if a person with COPD meets certain criteria, Medicare covers the program.
The program coordinator can provide information on expected costs.
Find a program
Those interested in registering should start by contacting a doctor, who can direct them.
Health agencies are another resource to help you find a program. People can contact the American Lung Association Lung Helpline at 800-LUNGUSA (800-586-4872).
Alternatively, they can reach the American Association of Cardiovascular and Pulmonary Rehabilitation by calling 312-321-5146.
If a pulmonary rehabilitation program is not available in a person's area, they may still benefit from an exercise routine. Before starting, they should ask a doctor to suggest which one is right for them. One of the most important exercises for someone with lung disease is walking, but a doctor can make specific recommendations for duration and frequency.
Pulmonary rehabilitation is a program that provides physical training, breathing training, education, and counseling. It provides multiple benefits for people with COPD, including increased exercise capacity, the ability to perform daily activities, and a reduction in shortness of breath and negative emotions.
If a program is not available in a person's area, they can still benefit from participating in a home exercise routine. However, it is best to speak with a doctor before starting.